July 08, 2020
Title
Notice of resumption of Sky Hop Bus operation

<Measures of COVID-19 / Special measures for the second half of 2020 (limited period)>

Dear Customers,

Thank you for using Sky Hop Bus.
Due to the spread of the COVID-19 within Japan and overseas, the operation of Sky Hop Bus was completely suspended beginning April 1st until the end of the infectious disease and recovery of the market situation.
However, we would like to inform you that we are planning to restart the service with a reduced number of trips and in limited months and days starting from September 5th.
In addition, we will also carry out infection prevention measures for the "safety and security" of customers who will be using the service when we resume operation.
<Information>
1.Days of operation

2.Measures of COVID-19 / Special measures for the second half of 2020 (limited period)
In addition to existing ticket types, we plan to start handling new ticket types that can be used at low prices in a short period of time.
3.Information regarding resumption of operations

(1)Detailed information such as operation schedule, new ticket types and infective prevention measures will be posted around August 7.    
(2)We may postpone the resumption of operation due to changes in the situation of COVID-19. Please take note of this in advance.
(3)For operation information after April 2021, we plan to provide it after 2021 while taking into consideration COVID-19 situation and market situation.
4.Others
Although our operation is currently suspended, for you to be in contact with Sky Hop Bus, we have created an "official Instagram account". We look forward to your follow.   
Official account:@skyhopbus / Site URL:https://www.instagram.com/skyhopbus/
【Contact information for inquiries regarding this matter】
 ・Sky Hop Bus Official Website (Inquiry form):https://skyhopbus.com/contact
We looking forward to using Sky Hop Bus.
Sky Hop Bus Team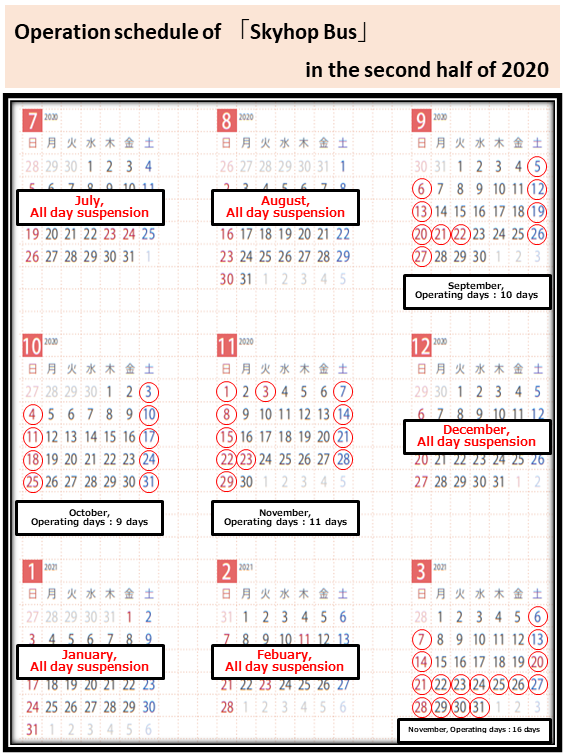 Red circle : Scheduled operation date