November 13, 2019
Title
【Notice】November. 18th, 2019, start to winter service!!
Dear. Customers
To make passengers enjoy a comfortable ride, the following services are offered from November to March our bus's Winter Service.

【Contents】
① Lap blankets : start from November 18th.
② Disposable hand warmer : start from December 1st.
③ Glass-roofed model bus with heater : start from December 1st.
<Operating on Glass roof bus : From Marunouchi Mitsubishi Building(R1・B1)>
  10:35 a.m. / 12:20 p.m. / 2:05 p.m. / 3:50 p.m. / 5:35 p.m.
※ The glass roof bus will be operated as on of the Red course buses (with services to Asakusa and TOKYO SKYTREE course).
  *It may be changed during bus maintenance.
※ The service period assumes the above, but please note that the start and end date may be changed depending on the weather condition.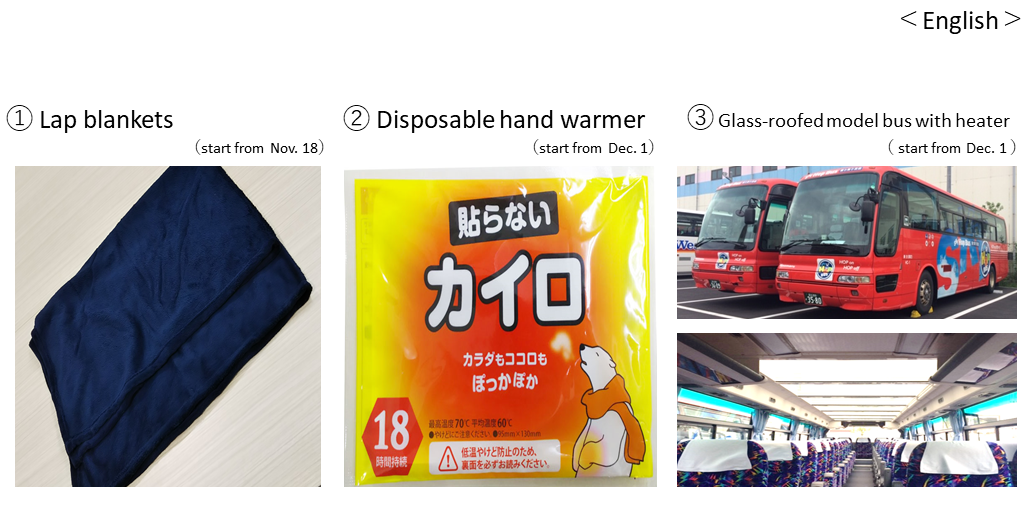 We look forward to using Sky Hop Bus.

Sky Hop Bus Team