Use QR codes to get on the bus!
To reduce contact and prevent the spread of COVID-19 infections, as well as to improve passenger convenience, a QR code system to authenticate boardings is now in place.
When you board the train, you will need to use the QR code on your ticket to verify your boarding.

For more information, please refer to the following instructions.
QR code tickets
Electronic tickets:These tickets can be purchased in advance from the online purchase page on our website. Tickets are issued by the system.(You can download them by purchase completion page. And E-Voucher will be send to your registered email address.)

*When you purchase from the Tokyo site, a blue electronic ticket on the left will be issued.
When you purchase from the Kyoto site, a purple electronic ticketon the left will be issued.
Electronic ticket for Tokyo

Electronic ticket for Kyoto
Boarding process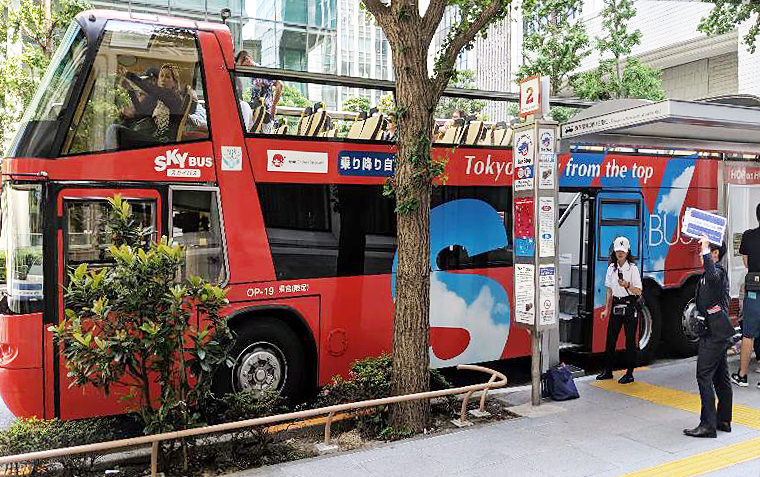 (1) After purchasing your ticket, please come to a Sky Hop Bus bus stops.
(2) Show your ticket to the bus staff and wait for their instructions.
(3) If they begin guidance, please use the QR code on your ticket to board the bus.
(4) Once your ticket is authenticated, please take a seat.

*You do not have to validate your ticket when you get off the bus.
*Marunouchi Mitsubishi Building bus stop (R1, B1) is the departure and arrival point for both courses (Red Course and Blue Course).
QR code reader
The authentication device is installed near the stairs at the bus entrance.
Bus entrance
Ticket authentication
Place the QR code of the ticket in the frame displayed on screen.

*We are using an iPad camera to read the QR codes, so please stand a short distance from the device during authentication.
*If you have downloaded an electronic ticket to your mobile phone, open the electronic ticket file on your phone, enlarge the QR code, and point it at the camera.
QR authentication screen
The type and expiration date are displayed for your ticket on the screen whether the authentication is successful (OK) or unsuccessful (NG). If the authentication fails, the reason for the failure will be displayed; please contact a staff member.
The ticket expiration date starts counting down from your first authentication. We at Skyhop Bus look forward to serving you!
When authentication succeeds

When authentication fails