February 07, 2020
Title
【February. 16, 2020】Notice of detours due to traffic restrictions associated with "Kyoto Marathon"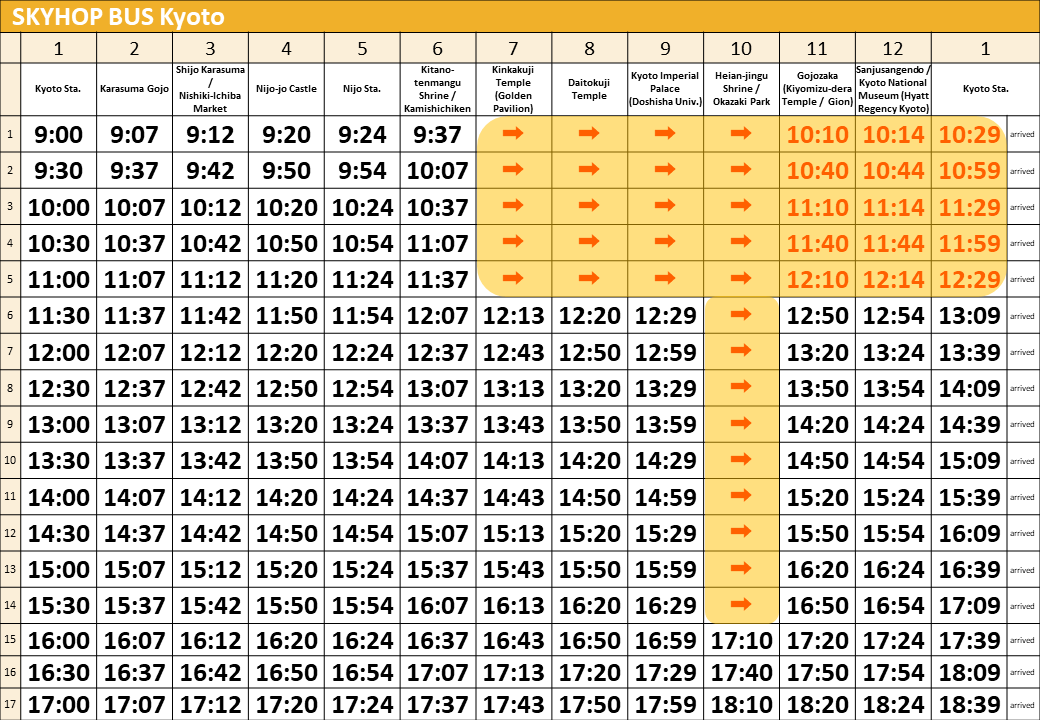 Dear. Customers
Thank you for using Sky Hop Bus KYOTO.
On February. 16, 2020, "Kyoto Marathon" will be held, Some times of operation will be correspond by a detour route. Some bus stops do not stop during the detour time, so please check the details below.
◆  Kyoto Marathon
・Opening Time :  February. 16, 2020 8:30 a.m. ~ 4:30 p.m.
◆  Please note that the time in red in the upper image will change the stop time.
※ It will not stop at the (→) bus stop.
※ In the morning time, arrival times at「Gojozaka (Kiyomizu-dera Temple / Gion) (⑪)」,「Sanjusangendo / Kyoto National Museum (Hyatt Regency Kyoto) (⑫)」,「Kyoto Sta. (①)」are also different from the regular timetable.
※ The timetable for the day will be posted in the bus. Please contact the bus attendant for more information.
Thank you for your understanding.
We look forward to using Sky Hop Bus.
Sky Hop Bus Team